Monday Memoir Writers Group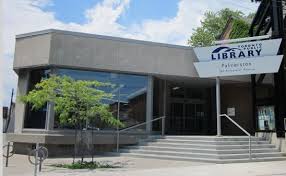 Palmerston Library
560 Palmerston Avenue Toronto, Ontario 416-393-7690
This library is open! Strict guidelines for lockdown. Wear a mask and keep distancing please.
No Memoir meetings are currently being held here.
(Memoir Special) Telephone meetings on Mondays at 2 pm 2021)
Contact Selia if interested: Dr. Selia Karsten drkarsten@astralsite.com
---
This memoir writers group meets most (not all) Mondays that the library is open. There are a few dates when the room is NOT available. We gather in a meeting room from 1:45 pm - 3:45 pm. There are usually 6-10 of us attending and we welcome new-comers. What do we do? We have a canister full of topics - our donated ideas for topics to write about. The stories relate to our lives as we are interested in writing memoirs. At our meetings, when a topic is taken from the collection and we all write for about 15 minutes. We then read what we've written to the group. Positive remarks and our shared ideas and experiences are interspersed with the readings.
---
At the library we do two topics - one for each hour - if the group is very small - we might do three topics. Depending on the size of the group, we have time to talk about whatever the group is interested in along with the readings. We date the topic cards used and archive them - see our Topic List below for that. We also exchange tips, ideas for resources and recommended reading material. (Resource List and Book Lists)
Monday Memoir Writers has been at Palmerston branch since May 2019. These Monday meetings are 1:45-3:45 pm at the Palmerston Branch. The meeting room is downstairs. An elevator operated by a librarian is for those with accessible needs. Please arrive early for this accomodation.
For all who are planning to attend, please be on time if possible as we need to be out of this meeting room by 3:45 for the next group. This library is two blocks west of Bathurst for those using TTC. There is an elevator at Bathurst station however it is out of service currently. If you prefer stairs you may enjoy the Markham exit. This station is a little closer than the Christie station.

---
Topic List - what we've written about since September, 2010.
Resource List - reading and web links related to writing memoirs.
Book Lists - Memoirs - links about memoirs and memoirs recommended by members of our writers' group.
Please join us.... in between meetings, to suggest writing resources or memoirs to read please contact:
Dr. Selia Karsten drkarsten@astralsite.com
updated June 21, 2021