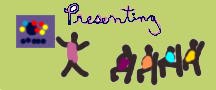 Free and Easy (Tools to use in Online Projects):
Presented for the TCC April 2011
Since 1997 I have been engaged in the design and delivery of courses geared to helping teachers at all levels with the integration of technology to enhance their curriculum. As the years have gone by, the complexities and upgraded versions of computer systems, learning management systems, software and Web2.0 tools have given academia more tools than adequate time in which to learn what tools to use, how to use them and what might be time and cost effective.
Since 2002, teachers in masters or doctoral programs have been participating in my online course at the Ontario Institute for Studies in Education at the University of Toronto (Holistic Approaches to Information Technology). The course is collaborative, constructivist and student-centred. Using simple tools, students engage in synchronous and asynchronous communication from all parts of the globe. Most often, the 12 week course is accomplished in a six-week session. A variety of resource websites are developed by the students.
A core project is each teamís creation of a web-based educational resource. Students also develop independent projects on the Web. Here are examples for those online actvities found to be effective in helping teachers to enhance their technical skills in a thoughtful and expedient manner.
Team Projects - Spring 2010
1. Wood: Making Inclusive Online Environments - http://woodteam2010resource.webs.com/
2. Fire: Collaboration Station - http://collaborationstation.webs.com/
3. Earth: Resources to Bring You Back...to Earth - http://earthteam2010.wikispaces.com/
4. Metal: My ESL Learning Journey - http://myesljourney.weebly.com/index.html
Summer 2009
1. Wood: Dyslexia Resource - http://woodgroup.webs.com/
2. Fire: Voices in Action - http://www.voicesinaction.webs.com/
3. Earth: My Healthy Internet - http://sites.google.com/site/myhealthyinternet/home
4. Metal: Teachers on Social Networking Sites - http://www.teachersonsns.webs.com/
5. Water: Cultural Awareness - http://cultural-awareness.webs.com

The tools that support these examples are free. For a small fee, the websites designed could be displayed without advertisements. The communication tool typewithme was used for project planning by the team, like the web editing tools this tool is very user-friendly.
Tools:
http://www.google.com/sites Example: http://sites.google.com/site/drkarsten/selia'sartsite
http://webs.com Example: http://www.freewebs.com/drkarsten (webs formerly was called freewebs)
Communication/chat tool: http://typewith.me/
Additional tools to explore: http://wikispaces.com http://weebly.com http://ning.com
1799 Gallery of Projects - http://astralsite.com/1799/gallery.html Links to Individual and Team projects completed between 2002 - 2010