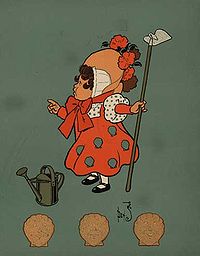 MARY, MARY, QUITE CONTRARY
Mary, Mary, quite contrary,
How does your garden grow?
With silver bells and cockle shells,
And pretty maids all in a row.
-- Anonymous
The old nursery rhyme is supposed to be about Mary Stuart, the 'silver bells' alluding to those used in the Mass, the 'cockle shells' to the badge of St James of Compostela, worn by pilgrims, and the 'pretty maids' to the famous four Marys who attended the Queen of Scots.
http://en.wikipedia.org/wiki/Mary,_Mary,_Quite_Contrary
Gardens - not just Mary can be quite contrary. Example: all pots and planters with flourishing plants on my balcony had to be placed in a dark hallway on my floor and they were not very happy during the two weeks away from sunlight while the balcony was being painted. It has taken more than a month to get them feeling good again and they still refuse to bloom. Soon it will be too cool for the fgeraniums. I'll be takeing them out of their pots, shaking the dirt off their roots and placing each one in a brown paper bag. The bags will go into a large plastic bag that will hang on the back porch for the winter. Next spring, I'll repot them and wait for them to come back to life. OK - it's not a big deal but it is meaningful to me. Like any number of things I do as part of my life's rituals. what things do you find yourself doing - one friend says it's washing doll's clothes...realizing nobody cares but it is meaningful to her.
Roald Dahl - a new interpretation of the nursery rhyme....http://www.poemhunter.com/poem/mary-mary-quite-contrary/
Mary, Mary, quite contrary
How does your garden grow?
'I live with my brat in a high-rise flat,
So how in the world would I know.'
Create Date : Tuesday, March 30, 2010
ABOUT THIS POEM (Poetry Foundation) - http://www.poetryfoundation.org/poem/176336
Discover this poem's context and related poetry, articles, and media.
Poet Mother Goose
Subjects Relationships, Friends & Enemies, Activities, Gardening
http://archiver.rootsweb.ancestry.com/th/read/ENG-LIN-AXHOLME/2002-01/1011572870
Beneath the surface of this simple garden plot is a rhyme overgrown with religious symbolism. One interpretation claims it describes the Church of the Virgin Mary — the pretty maids are nuns lined up in pews. A more racy interpretation says our contrary miss is Mary, Queen of Scots, the Catholic monarch whose loose lifestyle angered her straight-laced Protestant ministers. The pretty maids are ladies-in-waiting. And the cockle-shells? Would you believe decorations on a party dress given to her by a secret lover? People loved to dig up dirt on Mary. Find entries here from those discussing the rhyme starting in 1998 - going through 2006.
http://whatdoeshistorysay.blogspot.ca/2012/07/dark-history-behind-nursery-rhyme-mary.html
a UK blog entry about the Mary, Mary rhyme
http://poemsandprose.blog.co.uk/2007/03/08/mary_mary_quite_contrary~1867014/
Created October, 2011; Last update June, 2015
drkarsten@astralsite.com