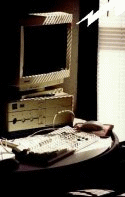 Dr. Selia Karsten's Teaching ePortfolio
I am a professor by passion and occupation. At the Ontario Institute for Studies in Education at the University of Toronto (OISE/UT) I am Sessional Lecturer Level II, teaching in the Curriculum Teaching and Learning Department, with a research focus in Computer Applications and Holistic and Arts-Based Education. My online course, Holistic Approaches to Information Technology delivered in the Summer 2022 (for the 24th time). I taught Foundations of Curriculum (online) The Holistic Curriculum face-to-face. I was with Seneca College from 1985 until my retirement from full time teaching in 2007. My last decade at Seneca was in the School of Marketing and eBusiness. I hold provincial and international awards for innovations in teaching with technology. My doctoral thesis, WebStars: A Holistic and Arts-Based Approach to a Computer Applications Course is in the University of Toronto Library.
At astralsite.com, find examples of my work as a Web-based instructional designer and consultant for educational publishers and find links to the many projects and sites developed in regards to my interests as an educator and artist. One of my teaching missions is to guide learners in self-actualizing processes. I was a full time student in the three-year Art Centre program and graduated in June 2010. I continued to hone my skills as a printmaker in the Art Centre's Printmaking Studio with fall and spring classes and now in my studio.
Accomplishments include graduation with "high honours" for a certificate in Designing Curriculum Using Instructional Technology, Seneca College Spring 2004. I am one of the editors for Holistic Learning and Spirituality in Education published by SUNY Press, spring 2005. I have developed and taught numerous post secondary courses and have served on many committees, intiatives and projects related to alternative modes of delivery and learning management systems. I have served as a reviewer for the British Journal of Educational Technology. and presenter at conferences such as the Technology, Colleges and Community online conference and the International Teaching and Learning Conference.

---
drkarsten@astralsite.com
April 2023