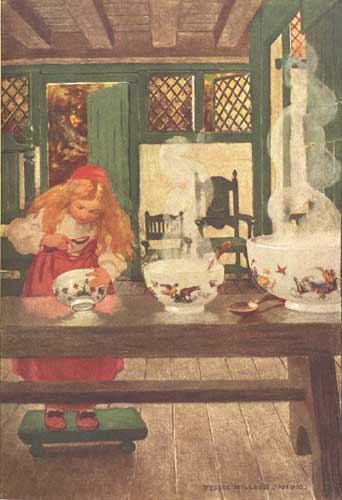 The Goldilocks Solution
Stories are a wonderful way to help students grasp difficult concepts in a non-threatening manner. Stories can often be used as metaphors for adult situations the learner may be facing. Stories can be self-actualizing helping to develop or achieve both the teacher and the learner's full potential. The following are two examples of familiar children's stories and related resources to use in teaching and learning in higher education.

Learning Solutions Stories linked with Heidi Anne Heiner's SurLaLune Fairy Tales
Teaching Solutions - stories used in the college setting (March 2005)
Real Life Story - what is the lesson learned?
What stories from your life are teaching stories? Want to share them - please write! drkarsten@astralsite.com
Illustration from: Coussens, Penrhyn W. A Child's Book of Stories. Jessie Willcox Smith, illustrator. New York: Duffield and Company, 1911.
October 2005