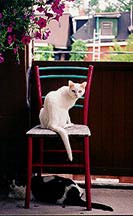 MY CATS

PeepEye
I had a lovely cat named PeepEye for sixteen years. I will always miss her.
Why that name?
When I first saw her I thought about the children's game where the eyes
are covered with the hands. When you take away the hands you say "Peep Eye!".
Her markings included a black mask over her white face.
When I met her she kept hiding in the cage at the vet's, terrified.
Once she got to my house, she was able to relax and enjoy life.

Possum
For the early years, PeepEye had a sparring partner, Possum.
Each evening they would have a friendly wrestling match atop the catbed.
Where PeepEye was a sprawling, self-indulgent babe, Possum was a dash about
and chase after sunspots kind of guy.

When I met Mr. Possum, I thought he needed a silly name after all he'd been through.
His master was dead after a long bed-ridden illness and the grieving widow wanted
nothing more to do with this elegant looking white cat.
Dame Edna uses the name Possum very affectionately and so did I.
As I got to know these furry characters, their names fluffed out appropriately.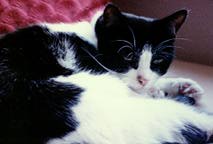 Her Royal Highness Princess PeepEye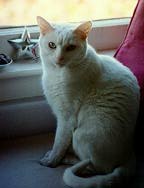 Mr. Honey Bunny Possum
I am sad to say that Mr. Possum became very ill and now he's gone.
PeepEye stayed with me for many years after Possum left. Finally she let me know that it was her time to go.
Both are gone to join Captain Midnight, my beloved Sunshine Coast cat...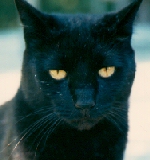 Captain Midnight
The Captain lived with me in Roberts Creek, BC. He was a country cat.
He had a very happy life with friends until his adventure ended when he met up with a cougar.
Rest in peace, dear, dear friends.
February 2015